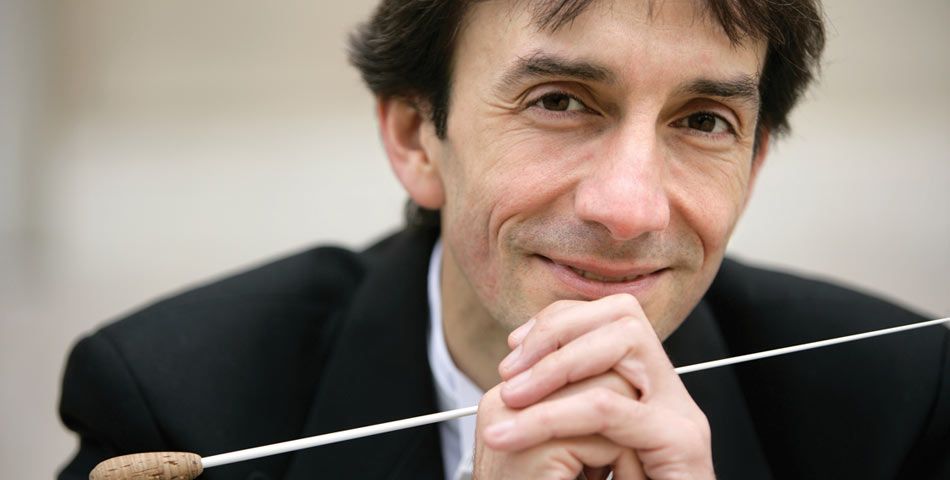 Photo credit : Clay McLachlan / Claypix.com
Territories : General Management
Photos
Photo credit : Clay McLachlan / Claypix.com
Upcoming concerts
15/05/2022
- Ostrava/ National Moravian Silesian Theatre
Massenet : Manon
Mise en scène : Jiri Nekvasil
26/05/2022
- Ostrava/ National Moravian Silesian Theatre
Massenet : Manon
Mise en scène : Jiri Nekvasil
26/06/2022
- Ostrava/ Antonín Dvořák Theatre - NODO OPERA 2022 - Opera Ibsen / Ghosts
Compositeur : Matouš Hejl - World Premiere
28/06/2022
- Ostrava/Antonín Dvořák Theatre - NODO OPERA 2022 - Saudade Chamber opera
Compositeur : James Layton - World Premiere
08/09/2022
- Ostrava/ National Moravian Silesian Theatre
Massenet : Manon
Mise en scène : Jiri Nekvasil
23/11/2022
- Ostrava/ National Moravian Silesian Theatre
Massenet : Manon
Mise en scène : Jiri Nekvasil
13/01/2023
- Ostrava/ National Moravian Silesian Theatre
Massenet : Manon
Mise en scène : Jiri Nekvasil
18/02/2023
- Santa Rosa/Weill Hall Green Music Center - Santa Rosa Symphony Orchestra
Piano : Jon Nakamatsu
Lilli Boulanger/Maurice Ravel/Philippe Glass/Claude Debussy
19/02/2023
- Santa Rosa/Weill Hall Green Music Center – Santa Rosa Symphony Orchestra
Piano : Jon Nakamatsu
Lilli Boulanger/Maurice Ravel/Philippe Glass/Claude Debussy
20/02/2023
- Santa Rosa/Weill Hall Green Music Center – Santa Rosa Symphony Orchestra
Piano : Jon Nakamatsu
Lilli Boulanger/Maurice Ravel/Philippe Glass/Claude Debussy
12/03/2023
- Ostrava/ National Moravian Silesian Theatre
Massenet : Manon
Mise en scène : Jiri Nekvasil
26/05/2023
- Ostrava/ National Moravian Silesian Theatre
Massenet : Manon
Mise en scène : Jiri Nekvasil
Biography of conductor Bruno Ferrandis
BRUNO FERRANDIS named « Laureate Conductor" of Santa Rosa Symphony in June 2018
Twelve years Music Director in California, Bruno Ferrandis was awarded the ASCAP Prize, for the most challenging Repertoire of season 2013-2014.
He has studied with Leonard Bernstein, Franco Ferrara, Sixten Ehling among others.
Graduated from Juilliard School, named Resident Conductor of Juilliard Opera Center, and co-founder of Ensemble "Music Mobile" with composer Martin Matalon in NYC.
His experience encompasses all genres: Opera, symphonic, Ballet and cinematic music.
Resident conductor at Canadian Opera Company, Toronto, collaborated with directors such as John Neville, Robert Lepage, Atom Egoyan, Steven Wadsworth, Martha Clarke. He is the Music Director for Opera at the Banff Art Center (Alberta).
In Asia, conducts Hong Kong Philharmonic and Sinfonietta, Seoul Philharmonic, Tokyo New National Theater.
He conducts the Jerusalem Symphony, the Polish Radio (Autumn Festival), State Opera (Prague), the Belgrade Philharmonic, orchestras of Madrid RTVE, Sevilla, Valencia in Spain, Lübeck and Coburg orchestras (Germany), Teatro Regio Torino, Teatro Genova (Italy), Orchestre de Monte Carlo, Radio France Orchestra where he records CDs of composers: Ballif, Prin and Essyad for Naxos and MFA Labels.
In the U.S.A he conducts the Buffalo Philharmonic, Hawai Symphony, Charlotte Orchestra for the National Flute Association.
In Colombia, the Bogotà Philharmonic.
He conducts lyric productions at: Opera Ireland (Dublin), Opéra Comique (Paris), San Francisco Conservatory, l' Opéra de Nice, l' Opéra de Tours. He received in 1997 the "Critic Prize" for Manfred Gurlitt's "Wozzeck" with Opéra de Rouen.
He directs modern Ensembles: Klang Forum (Vienna) for the film "Metropolis" of Fritz Lang with Martin Matalon's score, with "Kronos Quartet" and Edmund Campion's music, and many creators: George Tzontakis, Augusta Read-Thomas, Gyorgy Kurtag.
Since 2017 he is a guest conductor of both Opera and symphonic Festival "Ostrava Days" in the Czech Republic where he premieres numerous composers and famous ones such as:
Varèse, Xenakis, Sciarrino, Neuwirth, Ayres and many others.
In parallel he conducts since April 2021 a new production of Manon, with the Opera Ostrava
(Narodni Divadlo) and gets the "Prize for best lyric production" in 2018 for Aloïs Haba's "Thy Kingdom Comes".
In 2023, he returns to Ostrava for Manon, the "Ostrava Days Festival", and will conduct again the Bogotà Philharmonic in Colombia, as well as the Santa Rosa Symphony Orchestra.
Répertoire Symphonique
Adams
Chairman Dances Fox Trot
Short Ride in a Fast Machine
The Dharma at Big Sur for electric violin - solo: T. Silverman (Santa Rosa Symphony)
Anderson
First Day of Spring, Horse and Buggy, Jazz Legato (O. Friuli Venezia)
Aponte-Ledée
La Ventana Abierta (Juilliard Symphony)
Ayres Richard
Concerto for Horn N°36 (Ostravska Banda, Ostrava Days) – solo: D. Costello
Bach J.S.
Brandenburg Concertos n°2, 3, 4, 5 (Lyon Conservatory)
Magnificat BWV 243 (O. Pablo Sarasate)
Concerto for piano in F – solo: K. Esainko
Concerto for violin in E Major - solo: J. Edelberg
Harpsichord Concerto in D minor (Santa Rosa Symphony)
Bakla Petr
Summer Work (Ostravska Banda, Ostrava Days)
Piano Concerto - solo: M. Beinhauer
Ballif
Le Livre du Serviteur Op. 59 (O. Philharmonique de Radio France)
CD Label MFA
Barber
Adagio (Juilliard Orchestra)
Medea's Dance Op. 23 A (Tanglewood Seminar)
Bartok
Divertimento for strings (Flaine Festival)
Viola Concerto (O. National d'Ile de France)
Music for Strings, Percussion, and Celesta
Rumanian Folk Dances
Concerto for piano n°3 – solo: C. O'Riley
Miraculous Mandarin Suite
Concerto for Orchestra
Concerto for piano n°2 - solo: O. Weiss (Santa Rosa Symphony)
Beethoven
Ritter's Musik (O. Friuli Venezia)
Symphonies n°1 to n°8 (Santa Rosa Symphony/Teatro Regio/Aspen Music Festival/O.Avignon/O. Phil. Lorraine/O. Rouen/O. Friuli Venezia)
Coriolan overture
Concertos for piano 1 to 5- solo: I. Fliter/P. Bianconi/J. Kahane/Y. Sudbin
Concerto for violin – solo: Vadim Gluzman/Rachel Barton-Pine
Triple Concerto – solo: Eroïca Trio
Beethoven Symphony n°9 - solo: S. Sulker, E. Dowd,B. Brecher,P. Skinner (Santa Rosa Symphony)
Berg
Concerto for violin « Memory of an Angel » - solo: G. Apap
Sieben Frühe Lieder - solo: C. Brandes (Santa Rosa Symphony)
Berio
Requies (Jerusalem Symphony)
Folk Songs - solo E. Dowd
Rendering – Schubert Symphony n°10 (Santa Rosa Symphony)
Berlioz
Le Corsaire O. Phil. Lorraine)
Damnation de Faust excerpts (O. Phil. Monte-Carlo)
Harold en Italie (Riverside O. NYC)
Romeo and Juliet Introduction
Symphonie Fantastique (Santa Rosa Symphony)
Bernstein
Candide (Juilliard Symphony)
On the Town « Three Dance Episodes »
Symphonic Dances « West Side Story »
Jeremiah Symphony – solo: C. Brandes
Halil for Flute – solo: J. Ferrandis (Santa Rosa Symphony)
Bizet
Carmen Prélude, Entr'acte to Act III, IV (Juilliard Symphony)
Symphony n°1 (Juilliard Pre-College)
Boccherini
Concerto for violoncello G 482 – solo: E. Rungge (Aspen Music Festival)
Borodine
Polovtsian Dances (Santa Rosa Symphony)
Bottesini
Concerto for Contrabass – solo: D. Marillier (Flaine Festival)
Boulez
Dérive, Mémoriale (Music Mobile, NY)
Boyce
Arden Court Ballet (Juilliard Symphony)
Brahms
Concerto for piano n°2 - solo: N. Krieger
Brahms/Schoenberg G minor quartet (Buffalo Philharmonic)
Variation on a Haydn theme, Serenade in D Major (Juilliard Symphony)
Violin Concerto - solo: E. Vähälä
Concerto for piano n°1 – solo: A. Bax
Academic, Tragic overtures
Symphonies n°1, n°2, n°3, n°4
German Requiem – solo: J. Sykes, K. Clift (Santa Rosa Symphony)
Brewbaker
Blue Fire (Santa Rosa Symphony)
Britten
Symphony for violoncello - solo: Z. Bailey
Four Sea Interludes (Santa Rosa Symphony)
Bruckner
Symphony n°9 (Santa Rosa Symphony)
Bruch
Scottish Fantasy Op. 45 - solo: A. Akiko-Meyers (Aspen Music Festival)
Kol Nidrei - solo : M. Beiser (Santa Rosa Symphony)
Campion
Hold that Thought
Concerto for String Quartet World Première - solo: Kronos Quartet (Santa Rosa Symphony)
Carlson
The Promise of Time (Santa Rosa Symphony)
Chabrier
Danse Slave, Bourrée Fantasque, Suite Pastorale, Joyeuse Marche (Orchestre National de Lille)
Chaynes
Flute Concerto « Via Ercolensi » - solo : J. Ferrandis (O. Symphonique Français)
Cherney
Et la Solitude (O. Philharmonique de Radio France)
Chopin
Concerto for piano n°2 – solo: Berenika (Santa Rosa Symphony)
Constant
Chants de Retour (Bachchor/Bachorchester Mainz)
Copland
Symphony n°3, Short Symphony, Quiet City (Juilliard Symphony)
Billy the Kid (Académie Fontainebleau)
Cantata for Freedom (Santa Rosa Symphony)
Dao
Jiao-Hoa Sinfonia (O. Philharmonique de Radio France)
Daugherty
Lex (Music Mobile, NY)
Debussy
Nocturnes (Opéra de Marseille)
La Mer (O. RTVE, Madrid/Hawaï Symphony)
L'Après-midi d'un Faune (Seoul Philharmonic Orchestra)
La Boîte à Joujoux (O. Symphonique Français)
Iberia
Jeux
Printemps
Danse Sacrée et Profane for harp – solo : M.P. Langlamet (Santa Rosa Symphony)
Delerue
Concerto de l'Adieu for violin - solo : B. Gardey (O. Lamoureux)
Dukas
L'Apprenti Sorcier (Juilliard Symphony)
La Péri excerpts (O. Philarmonique de Monte-Carlo)
Dun
Crouching Tiger – solo : M. Beiser (Santa Rosa Symphony)
Dusapin
Apex (O. Philharmonique de Radio France)
Dutilleux
Métaboles
Tout un Monde Lointain for violoncello - solo : C. Polterra (Santa Rosa Symphony)
Dvorak
Symphony n°7 (Juilliard Symphony)
Serenade for strings (Aspen Music Festival)
Concerto for piano- solo W. Manz (O. der Hansestadt Lübeck)
Symphony n°9
Rusalka overture
Concerto for violoncello – solo: J. Albers (Santa Rosa Symphony)
Elgar
Concerto for violoncello – solo: Z. Bailey
Enigma Variations (Santa Rosa Symphony)
Enesco
Rumanian Rhapsody Op. 11 n°1 (Santa Rosa Symphony)
Essyad
Tifounacine (Juilliard Symphony)
L'exercice de l'Amour (O. Philharmonique de Radio France)
CD Label MFA
Fairouz
Pax Universalis World Première (Santa Rosa Symphony)
Falla
El Sombrero de Tres Picos Ballet (Teatro Carlo Felice, Genoa/Opéra de Nice)
Nights in the Gardens of Spain - solo: G. Olhsson (Santa Rosa Symphony)
Fauré
Masques et Bergamasques (O. de Valencia)
Pelléas et Mélisande (O. RTVE, Madrid)
Requiem - solo: M. Deloach, C. Sieden
Elégie for violoncello – solo: A. Akiko-Kearns (Santa Rosa Symphony)
Gander
Fête, Gare (Klangforum, Wien)
Gasser
Sonoma Overture World Première (Santa Rosa Symphony)
Gershwin
Concerto for piano in F - solo: G. Martinez
An American in Paris
Rhapsody in Blue
Cat Fish Row Suite
Cuban overture (Santa Rosa Symphony)
Ginastera
Estancia Op. 8b
Concerto for Harp - solo: M.P. Langlamet (Santa Rosa Symphony)
Glinka
Ruslan and Ludmila (Accademia Chiggiana, Siena)
Golijov
Mariel for violoncello – solo: M. Beiser (Santa Rosa Symphony)
Grieg
Concerto for piano - solo: P. Bianconi (Santa Rosa Symphony)
Gubaïdulina
Fairytale Poem (Santa Rosa Symphony)
Hagen
Interior (Juilliard Symphony)
Holst
The Planets (Santa Rosa Symphony)
Haendel
Water Music (N. J. S. O.)
Hartmann
Concerto Funebre for violin – solo: D. Grimal (O. de Cannes)
Haydn
Symphony n° 82, n°88, n°94, n°99, n°100, n°101, n°103, n°104 (Santa Rosa Symphony/Juilliard Symphony/Jerusalem Symphony/O. Pablo Sarasate)
Notturno II (Music Mobile, NY)
Missa in Angustiis « Nelson Mass »
Missa in Tempore Belli – solos : J. Samuelson, C. Brandes (Santa Rosa Symphony)
Hindemith
Trauermusik for viola (Juilliard Pre-College)
Holst
The Planets (Santa Rosa Symphony)
Hovhaness
Meditation on Orpheus (Santa Rosa Symphony)
Hurel
Pour Luigi (Music Mobile, NY)
Ibert
Escales (Juilliard Symphony)
Concerto for Flute - solo: J. Ferrandis (Santa Rosa Symphony)
Ives
Central Park in the Dark (ONO, Ostrava Days)
Janacek
From the House of the Dead, Katya Kabanova overtures (Santa Rosa Symphony)
Kagel
Konzertstück, Les Idées Fixes, Quodlibet – solo : M. Viard (O. Polish Radio, Warsaw)
Kander
New York New York (O. Friuli Venezia)
Kang Sukhi
Concerto for piano - solo : K. W. Paik (O. Philharmonique de Radio France)
Khatchaturian
Gayane Suite, Masquerade Suite (Santa Rosa Symphony)
Kim
Where Grief Slumbers (Aspen Music Festival)
Kodaly
Galanta Dances (Juilliard Symphony)
Kurtag
Quasi une Fantasia…solo : P. Muzijevic (Santa Rosa Symphony)
Kusyakov
Concerto for accordeon - solo: Y. Shishkin (Bogotà Philharmonic)
Lalo
Symphonie Espagnole (Juilliard Symphony)
Concerto for violoncello – solo : G. Hoffman (O. de Valencia)
Landowski
Ode à Sainte Dévote (O. Phil. de Monte-Carlo)
Lang Bernhard
Monadologie XXXIX-redux –solo : H. Kotkova (ONO, Ostrava Days)
Lang Klauss
Die Bärtige Frau for organ – solo : K. Lang (ONO, Ostrava Days)
Lehar
Ballsirenen overture (O. Friuli Venezia)
Lemeland
Battle Pieces narrator B. Sugarman (Santa Rosa Symphony)
Ligeti
Lontano (Santa Rosa Symphony)
Kammerkonzert (Music Mobile, NY)
Liszt
Les Préludes
Concerto for piano n°1, Totentanz – solo : V. Lisitsa (Santa Rosa Symphony)
Malédiction, Concerto for piano n°2 - solo : H. du Plessis (Flaine Festival)
Mahler
Symphony n°7 « Leonard Bernstein Masterclass » (Juilliard Symphony)
Lieder E. Fahrenden Gesellen - solo: J. Kreitzler
Symphony n°1
Symphony n°3 – solo: A. Fisher
Symphony n°9
Symphony n°10 (Santa Rosa Symphony)
Maresz
Charme Solaire (Juilliard Symphony)
Zig-Zag (O. Philharmonique de Monte-Carlo)
Martinu
Concerto for piano and timpani (O. National de Bordeaux Aquitaine)
Frescoes Piero della Francesca (O. Philharmonique de Lorraine)
Marquez
Danzon n°2 (Santa Rosa Symphony)
Massenet
Méditation de Thaïs (Opéra de Nice)
Matalon
Themes and Reinterpretations, Cosmogonia (Juilliard Symphony)
Metropolis 1995 version (Hong Kong Arts Festival/Klangforum Wien)
Metropolis 2010 version (Sonic Generator, Atlanta Symphony)
De Tiempo y de Metal (Santa Rosa Symphony)
Maric
Octoïcha 3 (Belgrade Philharmonic)
Matre
Resurgence (Santa Rosa Symphony)
Mendelssohn
Symphony n°3, n°5 (Juilliard Symphony)
Midsummer Night's Dream Op. 21 (O. d'Avignon)
Concerto for violin, Fingal's Cave (Accademia Chiggiana, Siena)
Symphony n°4 (Santa Rosa Symphony)
Messager
Les Deux Pigeons Ballet (O. Opéra de Nice)
Messiaen
Un Sourire
Turangalila Symphony (Santa Rosa Symphony)
Miaskovsky
Concerto for violoncello - solo: G. Hoffman
Salutary Overture (Santa Rosa Symphony)
Milhaud
Le Boeuf sur le Toit (Seoul Philharmonic)
La Création du Monde (O. Pablo Sarasate)
Polka de l'Eventail de Jeanne (O. Friuli Venezia)
Moe
Riprap (Music Mobile, NY)
Mozart L.
Cassation in G Major "Toy Symphony" (Santa Rosa Symphony)
Mozart W. A.
Concert Arias K. 21, 32, 79, 83, 255, 295, 374, 416, 418, 419, 505, 512, 513, 534, 541, 578, 583.
Divertimento K.113
Serenade K.185
Marcia K. 189
Concerto for Horn K.447, K. 495 (Juilliard Symphony)
Symphony n° 28, 33, 39, 40, 41 (O. Pablo Sarasate/Juilliard Symphony/New.Jersey.Symphony.O/O. Phil.Monte-Carlo/Belgrade Philharmonic)
Eine Kleine Nacht Musik O. Pablo Sarasate)
Concerto for flute and harp – solo: J. Ferrandis flute, M.P. Langlamet harp (Manchester)
Concerto for oboe – solo: J.L. Capezali
Concerto for piano n° 15 K. 450 – solo : Claire Désert (O. Lamoureux)
Overtures of Figaro, Magic Flute, Don Giovanni
Concerto for Clarinet K. 622 – solo: R. Zajac
Concerto for Horn K. 417 - solo: D. Hinshaw
Сoncerto for 2 pianos n°10 - solo: Naughton Sisters
Sinfonia Concertante - solo: J. Edelberg violin, L. Prior viola
Concerto for violin n°5 - solo: B. Skride
Concerto for flute n°1 K.313 - solo: J. Ferrandis
Coronation Mass - Augsburg Boys Choir (Santa Rosa Symphony)
Murail
Treize Couleurs du Soleil Couchant (Music Mobile, NY)
Mussorgsky
Pictures at an Exhibition
Night on a Bald Mountain
Prelude to Khovanshchina (Santa Rosa Symphony)
Musgrave
The Beauty and the Beast Ballet (O. Opéra de Rouen)
Neuwirth
Trurliade-Zone Zero for percussion - solo: V. Hanna (Ostravska Banda, Ostrava Days)
Olivero
Batnun (Juilliard Symphony)
Orbon
Partita n°2 (Juilliard Symphony)
Ortiz
El Agua Incierta (Music Mobile, NY)
Concerto for bandoneon- solo: J.P. Joffre (Santa Rosa Symphony)
Paganini
Concerto for violin n°1 - solo: D. Berlinsky (Santa Rosa Symphony)
Penderecki
Als Jakob Erwachte (Santa Rosa Symphony)
Porrino
Tre Canzoni Italiane (O. Friuli Venezia)
Porter
Night and Day Suite (O. Friuli Venezia)
Poulenc
Aubade (Centre trois Pierrots, Saint-Cloud)
L'Histoire de Babar (O. Phil. Lorraine)
La Pastourelle (O. Friuli Venezia)
Concerto for two pianos - solo: Naughton Sisters
Gloria (Santa Rosa Symphony)
Prokofiev
Classical Symphony (Hong Kong Sinfonietta)
Concerto for violin n°1 Op. 19 (Juilliard Pre-College)
Peter and the Wolf (Juilliard Pre-College)
Summer Day Op. 65 bis (Aspen Music Festival)
Romeo and Juliet Ballet (O. Rouen)
Symphony n°5 (Bogotà Philharmonic)
Concertos for piano n°1 - solo: O. Kern
Concerto for piano n°2 – solo: J. Yang
Concerto for piano n°3 - solo: N. Paremski
Concerto for violin n°2 - solo: V. Gluzman
The Love of three Oranges Suite Op. 33 bis
Cinderella Suites Op. 107, Op.108, Op.109
Cantata "Alexander Nevsky" - solo: J. Kreitzer (Santa Rosa Symphony)
Rachmaninov
Vocalise Op. 34 (Hong Kong Sinfonietta)
Rhapsody Theme Paganini – solo: P. Bianconi/J. Kimura-Parker
Concertos for piano n°1, n°2 – solo: O. Kern
Concerto for piano n°3 - solo: J. Kahane
Symphonic Dances
The Bells "Kolokola" - solo: J. Samuelson, C. Bengochea, P. Skinner (Santa Rosa Symphony)
Ranjbaran
Magnum Opus W. P.
Concerto for viola - solo: P. Silverthrone (Santa Rosa Symphony)
Rataj
Temporis Concerto for cymbalom - solo: J. Mikusek (Santa Rosa Symphony)
Movis Concerto for piano - solo: D. V. de Walle (ONO, Ostrava Days)
Ravel
Le Boléro (Sevilla Symphony O.)
Ma Mère l'Oye (Accademia Chiggiana, Siena)
Valses Nobles et Sentimentales (O. National d'Ile de France)
Tzigane for violin - solo : B. Gardey (O. Lamoureux)
La Valse
Rhapsodie Espagnole
Concerto for piano in G – solo: C. Licad
Daphnis Suite n°1, Suite n°2 (Santa Rosa Symphony)
Read-Thomas
Prayer Bells (Santa Rosa Symphony)
Respighi
Fontane di Roma (Santa Rosa Symphony)
Gli Ucelli "The Birds" (Hong Kong Sinfonietta)
Reynolds
Watershed (Music Mobile, NY)
Rihm
Ernster Gesang (Santa Rosa Symphony)
Rimsky-Korsakov
Capriccio Espagnol (Accademia Chiggiana, Siena)
Golden Coquerel Suite
Sheherazade (Santa Rosa Symphony)
Rossini
La Gazza Ladra, Il Barbiere di Sevilla, La Scala di Seta, William Tell overtures (Santa Rosa Symphony / N. J. S. O.)
Roussel
Le Festin de l'Araignée (Accademia Chiggiana, Siena)
Pour une Fête de Printemps (Opéra de Marseille)
Saint-Saens
Introduction and Rondo for violin (Juilliard Symphony)
Concerto for violin n°3 - solo : Tedi Papavrami (Opéra de Marseille)
Concerto for piano n°2 - solo: J. P. Collard (Santa Rosa Symphony)
Salonen
L. A. Variations (O. Philharmonique de Radio France)
Satie
Entr'acte (Aspen Music Festival)
Parade Ballet (Teatro C. Felice, Genova)
Gymnopédies n°1, n°3 (Hawaï Symphony)
Sciarrino
Giorno presso al Lago Nero for violin – solo: H. Kotkova (ONO, Ostrava Days)
Studi per il Mare (ONO, Ostrava Days)
Schoenberg
Chamber Symphony Op. 9 (Juilliard Symphony)
Verklärte Nacht Op. 4 (Santa Rosa Symphony)
Schumann
Symphony n°3 (Juilliard Symphony)
Symphony n°1 (Bogotà Philharmonic)
Concerto for violoncello (Riverside O., NY)
Concerto for piano - solo : B. Rigutto (O. d'Avignon)
Manfred overture
Symphony n°2, n°4 (Santa Rosa Symphony)
Sheng
Tibetan Swing (Santa Rosa Symphony)
Shostakovich
Concerto for violin n°1 – solo : T. Papavrami
Concerto for piano n°2 – solo : A. Toradze
Festival overture
Symphony n°1
Symphony n°5
Symphony n°10
Symphony n°11 n°11 Op.103 (Santa Rosa Symphony)
Sibelius
Finlandia
Concerto for violin – solo : Tedi Papavrami
Symphony n°2, n°4, n°5 (Santa Rosa Symphony)
Smetana
The Bartered Bride overture (Jerusalem Symphony)
Srnka
Eighteen Agents for strings (Ostravska Banda, Ostrava Days)
Steinberg
Dance Fantasy (Mannes College)
Strauss J.
Waltzes, Polkas, Marches, Galops (O. Friuli Venezia/ O. Pablo Sarasate)
Strauss R.
Concerto for oboe (Guildhall School, London)
Rosenkavalier Suite (Juilliard Symphony)
Don Juan (Juilliard Symphony)
Till Eulenspiegel (Santa Rosa Symphony)
Stravinsky
Cantata Abraham and Isaac (Guildhall School, London)
Concerto in D (Festival de Flaine)
Jeux de Cartes (Juilliard Symphony)
Firebird Suite 1919 (Juilliard Symphony)
Pulcinella Suite (Académie Fontainebleau)
Octet (Music Mobile, NY)
Septet (Music Mobile, NY)
Concerto in D for violin - solo: M. Mitchell (Polish Radio O., Warsaw)
Concertino (O. National Bordeaux Aquitaine)
L'Histoire du Soldat (Music Mobile, NY)
Dumbarton Oaks (Juilliard Symphony)
Concerto for piano and Winds - solo : C. Désert (Opéra de Nice)
Scènes de Ballet (Opéra de Nice)
Symphony of Wind Instruments (Opéra de Nice)
Symphony in Three Movements (Opéra de Nice)
Le Sacre du Printemps (Teatro Carlo Felice, Genova)
Petrouchka (O. de Valencia)
Scherzo Fantastique
Pulcinella Ballet - solo: K. Scharich, J. Smucker, K. Eichelberger
Firebird Ballet 1910
Firebird Suite 1945
Symphony of Psalms (Santa Rosa Symphony)
Subotnik
All my Hummingbirds (Music Mobile, NY)
Taïra
Erosion I for flute – solo : B. Fromanger (O. Philharmonique de Radio France)
Tchaïkovsky
Swan Lake Ballet (Guildhall School, London)
Roccoco Variations (Flaine Festival)
Serenade for strings (Juilliard Symphony)
Concerto for violin – solo: N. Salerno- Sonnenberg
Concerto for piano n°1 - solo: J. Nakamatsu
Symphony n°4, n°5, n°6 (Santa Rosa Symphony)
Telemann
Concerto for three Horns (Riverside O., NY)
Ung
Inner Voices (Juilliard Symphony)
Varèse
Intégrales (Ostravska Banda, Ostrava Days)
Octandre (Music Mobile, NY)
Ionisation (O. Phil. Lorraine)
Vaughan-Williams
Fantasia on a Theme of Tallis (Guildhall School, London)
Vasks
Magnum Opus Premiere (Santa Rosa Symphony)
Verdi
Nabucco, La Forza del Destino overtures
Aïda Triumphal March and Ballet
La Traviata Prelude to Act I
Requiem - solo: C. Major, C. Bengochea (Santa Rosa Symphony)
Villa-Lobos
Bachanias Brasilieras n°5 (Hong Kong Sinfonietta)
Viñao
Viviane Suite (O. Philharmonique de Radio France)
Wagner
Siegfried Idyll, Die Meistersinger overtures (Accademia Chiggiana, N.J.S.O.)
Tristan Nachtsgesang
Tannhäuser overture
Tristan Prelude and Liebestod (Santa Rosa Symphony)
Der Ring (orchestra excerpts)
« Descent from Nibelheim »
« Ride of the Walkyries »
« Wotan's Farewell »
« Magic Fire scene »
« Forest Murmurs »
« Siegfried's Rhine Journey »
« Trauermarsch and Final Scene » (Santa Rosa Symphony)
Weber
Oberon (Teatro Regio, Torino)
Euryanthe, Der Freischütz overtures (Guilhall School, London)
Concerto for bassoon (Guilhall School, London)
Concerto for clarinet Op.26 (Aspen Music Festival)
Konzertstück for piano - solo: G. Olhsson (Santa Rosa Symphony)
Webern
Six pieces Op.6 (BBC Manchester O. Seminar)
Symphony Op.21 (O. de Cannes)
Passacaglia Op.1 (Santa Rosa Symphony)
Weill
The Seven Deadly Sins - solo: U. Lemper, « Hudson Shad Quartet » (Santa Rosa Symphony)
Xenakis
Persephasa for 6 percussions (ONO, Ostrava Days)
Répertoire Opéra
Ayres Richard
N°50 The Garden (Nodo Opera Festival, Ostrava)
Argento Dominic
Postcard from Morocco (Juilliard Opera Center)
Bartok
Bluebeard's Castle (Cover Conductor) (Hong Kong Arts Festival, Hong Kong Philharmonic)
Beethoven
Fidelio (Cover Conductor , Canadian Opera Company, Toronto,)
Berg
Lulu (Cover Conductor, Canadian Opera Company, Toronto,)
Bizet
Carmen (Brooklyn College)
Britten
A Midsummer Night's Dream Juilliard School)
The Turn of the Screw (Brooklyn College)
The Rape of Lucretia (Juilliard Opera Center)
Peter Grimes (Opéra de Nice)
Cavalli
L' Egisto (Guildhall School, London)
Daugherty Michael
Jackie O (Banff Arts Festival)
Druckman Jacob
Medea (Juilliard Opera Center)
Falla Manuel
El retablo de Maese Pedro (Aspen Opera)
La Vida breve (Opéra de Nice)
Fleischmann Benjamin
Le Violon de Rothschild (Juilliard Opera Center)
Gounod
Faust (Opera Ireland, Dublin)
Gurlitt Manfred
Wozzeck (Théâtre des Arts, Rouen,)
" Grand Prix de la Critique 1997" (Prize of French Critic)
Die Soldaten (Opéra de Nantes, ONPL)
Haba Aloïs
Thy Kingdom Come (Ostrava Days, République tchèque)
« Prix de la meilleure production lyrique tchèque 2017/18» (Best Czech Production of the year/ Magazín Divadelní Noviny)
Heggie Jake
Dead Man Walking (Opera Ireland, Dublin)
Janacek
Katya Kabanova (Cover Conductor, Canadian Opera Company, Toronto)
Jenufa (Opéra de Tours)
Mascagni
L'Amico Fritz (Juilliard Opera Center)
Cavalleria rusticana (Cover Conductor, Canadian Opera Company, Toronto)
Massenet
Cendrillon (Orchester der Hansestadt Lübeck)
Manon (Narodni Divadlo Ostrava CZ)
Menotti
The Saint of Bleecker Street (Spoleto Festival U.S.A.)
Amelia va al Ballo (Opéra de Nantes, ONPL)
Le Téléphone (Opéra de Lausanne)
Milhaud
Les Malheurs d' Orphée Op. 85 (Aspen Opera)
Le Pauvre Matelot Op. 92 (Aspen Opera)
Monteverdi/Berio
Il Combattimento di Tancredi e Clorinda (Aspen Opera)
Mozart
Le Nozze di Figaro (Juilliard Opera Center)
Don Giovanni (Aspen Opera)
Apollo and Hyacinth (Canadian Opera Company, Toronto)
La Clemenza di Tito (Canadian Opera Company, Toronto)
Die Zauberflöte (Canadian Opera Company, Toronto)
Die Entführung aus dem Serail (Festival d'Antibes –Lacoste)
Nicolaï
The Merry Wives of Windsor (Guildhall School, London)
Offenbach
Orphée aux Enfers (San Francisco Conservatory)
Peters Randolph
Nosferatu (Cover Conductor, Canadian Opera Company, Toronto)
Puccini
Madama Butterfly (Canadian Opera Company, Toronto, Cover Conductor)
La Tosca (Juilliard Opera Center)
La Bohème (Canadian Opera Company, Toronto)
Il Tabarro (Cover Conductor, Canadian Opera Company, Toronto)
Rossini
Il Barbiere di Siviglia (Canadian Opera Company, Toronto Cover Conductor)
Mosè in Egitto (Aspen Music festival Cover Conductor)
Rihm Wolfgang
Jacob Lenz (Juilliard Opera Center)
Schoenberg
Erwartung (Cover Conductor)
(Hong Kong Arts Festival, Hong Kong Philharmonic)
Strauss Johann
Die Fledermaus (Opéra de Nice)
Strauss Richard
Salome (Canadian Opera Company, Toronto, Cover Conductor)
Stravinsky
Symphonie de Psaumes /Oedipus Rex (Cover Conductor C O C Toronto)
Rake's Progress (San Francisco Conservatory)
Mavra (Conservatoire Royal de Gand)
Le Rossignol (Conservatoire Royal de Gand)
TchaÏkovsky
Eugene Onegin (Cover conductor Canadian Opera Company)
Ullmann Viktor
Der Kaiser von Atlantis (Canadian Opera Company, Toronto)
Vaughan-Williams
Hugh the Drover (Juilliard Opera Center)
Verdi
Rigoletto (Opéra de Tours)
Falstaff (Juilliard Opera Center)
La Traviata (Festival d'Antibes – Lacoste)
La Forza del Destino (Juilliard Opera Center, Cover Conductor)
Viñao Ezequiel
Viviane, suite de l'opéra Merlin (Orchestre Philharmonique de Radio France)
Ward Robert
The Crucible (Cover Conductor, Juilliard Opera Center)
Weill Kurt
Die Sieben Todsünden (Juilliard Opera Center)
Wolf-Ferrari Ermanno
Il Segreto di Susanna (Opéra de Nantes , ONPL)