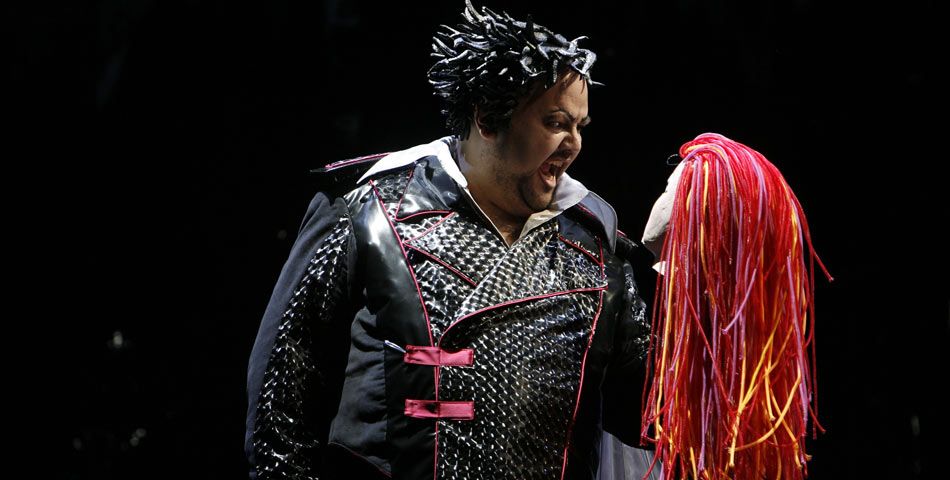 Photo credit : Thomas M. Jauk
Territories : France + Monaco
Photos
Photo credit : Thomas M. Jauk
Upcoming concerts
05/04/2017
- Lille/Auditorium du Nouveau Siècle
Le Messie/Haendel (Orchestration Mozart) - Direction Jan Willen de Vriend
06/04/2017
- Lille/Auditorium du Nouveau Siècle
Le Messie/Haendel (Orchestration Mozart) - Direction Jan Willen de Vriend
07/04/2017
- Valenciennes/Le Phenix
Le Messie/Haendel (Orchestration Mozart) - Direction Jan Willen de Vriend
Biography of baritone Stefan Adam
The German baritone Stefan Adam graduated with diploma as church musician from the Robert-Schumann-Hochschule Düsseldorf.
Then he studied singing at the Hochschule für Musik und Tanz in Cologne with Prof. Edda Moser, Prof. Dietger Jacob and Prof. Kurt Moll. He passed his final artistic examination with distinction.
Stefan Adam's artistic activity initially was centred in the areas of lied, oratorio and concert.
He gathered his first stage experiences during his studies at the Opernschule Köln, where he worked with Professor Jacob Jenisch, Michael Hampe and Andreas Homoki.
Master-classes with chamber singer Theo Adam and Professor Franz Müller-Heuser and Lieder presentation studies with Professor Jürgen Glauß expanded and extended his education.
Already during his studies Stefan Adam got his first engagement at the "Theater Hagen", where he was engaged from 1994 to 2001. During this time guest engagements led him to theatres in Essen, Münster and Flensburg. Since 2001-2002 season he was a member of the ensemble at the "Städtische Bühnen Münster". With the start of the 2004-2005 season he changed at the Staatstheater in Kassel. After five successful years, beginning with the season 2009-2010, he followed an appointment to the "Niedersächsische Staatsoper Hannover".
Stefan Adam has worked with conductors like Leon Botstein (New York), Helmuth Rilling (Stuttgart), Ernest Martinez-lzquierdo (Barcelona), Will Humburg (Catania), Gerhard Markson (Dublin), Roberto Paternostro (Wien/Tel Aviv) and Eiji Ouwe (Barcelona).
He also has appeared renowned orchestras such as Staatsorchester Kassel, Bach-Collegium Stuttgart, Orquestra sinfonica de Barcelona i nacional de Catalunya, Orchestre Philharmonique de Strasbourg, Philharmonie Essen and Radiophilharmonie Hannover des NDR.
Important directors in his previous career have been Dietrich Hilsdorf, Gabriele Rech, Dominik Neuner, Andreas Homoki, Roland Aeschlimann and Christoph Meyer.
Opera repertoire
D' Albert, Eugen
Tiefland
Sebastiano
2005
Banter, Harald
Der blaue Vogel
Der Narr Perlimpinpin
1999
Beauddin, Richard
Himmelfahrt
Seele
2008
Beeson, Jack
Cyrano
Marquis de Cuigy
1994
Berg, Alban
Wozzeck
Wozzeck
2004
Britten, Benjamin
Peter Grimes (engl.)
Captain Balstrode
2008
Corghi, Azio
Senja
Egor Merik
2003
Donizetti, Gaetano
Don Pasquale (dt.)
Doktor Malatesta
1998
Febel, Reinhard
Beauty (UA))
Papa
1996
Gassmann, Florian Leopold
L'opera seria
Bragherona
2012
Giordano, Umberto
Andrea Chénier (it.)
Carlo Gérard
1999
Hersant, Philippe
Das Karpathenschloß (dt.)
Baron de Gorz
1995
Humperdinck, Engelbert
Hänsel und Gretel
Peter, Besenbinder
2012
Janacek, Leos
Das schlaue Füchslein (dt.)
Schicksal (Osud) (dt.)
Förster
Konecny
2005
2005
Kander, John
Cabaret)
Conférencier
1996
Kirchner, Volker Davis
Die Trauung
König Ignaz
1998
Kunad, Rainer
Der Traum
Der Mann
2000
Lehar, Franz
Die lustige Witwe
Baron Mirko Zeta /
Vicomte Cascada
1995
Mancini, Henry
Viktor/Viktoria
Squash Bernstein
1999
Mascagni, Pietro
Cavalleria rusticana (dt.)
Tonio
1996
Massenet, Jules
La Navarraise (dt.)
General Garrido
1996
Mozart, Wolfgang Amadeus
Die Zauberflöte
Sprecher
1997
Mussorgski, Modest
Boris Godunow (dt.)
Boris
2001
Nicolai, Otto
Die lustigen Weiber von Windsor
Herr Fluth
1994
Offenbach, Jacques
Les Contes d' Hoffmann (fr.)
Lindorf, Coppelius,
Mirakel, Dapertutto
2007
Penderecki, Krzysztof
Paradise Lost
Satan
2001
Poulenc, Francis
Les dialogue des Carmélites (fr.)
Marquis de la Force
2009
Prokofjew, Sergej
Der feurige Engel (dt.)
Die Liebe zu den drei Orangen (dt.)
Ruprecht
Tschelio
2002
2010
Puccini, Giacomo
Bohéme (it.)
Gianni Schicchi
Tosca (it.)
Marcello
Schicchi
Scarpia
1995
2013
1997
Rimski-Korsakow, Nikolai
Der goldene Hahn (dt.)
König Dodon
2006
Rushton, Edward
Harley
Gustavo Escudero
2007
Spoliansky, Mischa
Rufen sie Herrn Plim
Ein Herr
2003
Strauss, Johann
Der Zigeunerbaron
Graf Peter Homonay
1994
Strauss, Richard
Ariadne auf Naxos
Salome
Der Rosenkavalier
Elektra
Musiklehrer
Jochanaan
Herr von Faninal
Orest
2012
2008
2010
2010
Thuille, Ludwig
Gugeline
Gärtner, starker Bauer
1999
Tschaikowsky, Peter Iljitsch
Eugen Onegin (dt.)
Onegin
2001
Ullmann, Viktor
Der Kaiser von Atlantis
Kaiser Overall
2008
Verdi, Giuseppe
Il Trovatore (it.)
Ein Maskenball (dt.)
La forza del destino (it.)
Don Carlo (it.)
Nabucco (dt.)
La Traviata (it.)
Macbeth (it.)
Simone Boccanegra (it.)
Falstaff (it.)
Il Conte di Luna
Renato
Don Carlo di Varga
Marquis Posa
Nebukadnezar
Giorgio Germont
Macbeth
Simone
Falstaff
2005
1996
2005
2013
2000
2001
2010
2006
2011
Wagner, Richard
Die Meistersinger von Nürnberg
Die Meistersinger von Nürnberg
Tannhäuser
Die Hochzeit (Fragment)
Der fliegende Holländer
Tristan und Isolde
Das Rheingold
Siegfried)
Nachtigall / Nachtwächter
Sixtus Beckmesser
Wolfram von Eschenbach
König Hadmar
Holländer
Kurwenal
Alberich
Alberich
2013
2013
2012
1998
2009
2007
2011
2013
Wagner, Siegfried
An allem ist Hütchen Schuld
Bruder Lustig
Mond, Wirt, J. Grimm
Konrad
1997
2000
Weber, Carl Maria von
Silvana
Graf Adelhardt
1996
Weill, Kurt
Der Kuhhandel
Der Kuhhandel
General Garcia Conchez
Emilio Sanchez
2001
2001
Wolf-Ferrari, Ernanno
Das Himmelskleid (dt.)
Prinz Korbinian
1995
Concert repertoire
Johann Sebastian Bach
Magnificat
Weihnachtsoratorium
Johannes-Passion
Matthäus-Passion
H-Moll-Messe
Lutherische Messen
Solokantaten BWV 56, 82 und 158
Oster-Oratorium
Himmelfahrts-Oratorium
div. Kantaten
Ludwig van Beethoven
Gellert-Lieder
9. Sinfonie
Missa solemnis *
Oskar Gottlieb Blarr
Jesus-Geburt (UA)
Salut für Dr. Martinus
Threnos III
In te domine speravi
Tefila le mosche (UA)
Himmelfahrt (UA)
Johannes Brahms
Ein deutsches Requiem
Die schöne Magelone
Vier ernste Gesänge
Benjamin Britten
War Requiem
Cantata misericordium
Max Bruch
Das Lied von der Glocke
Anton Bruckner
Messe f-moll
Te Deum
Marc-Antoine Charpentier
Te Deum
Peter Cornelius
Vater unser
Weihnachtslieder
Gaetano Donizetti
Messa di Requiem
Maurice Duruflé
Messa cum jubilo
Requiem
Antonin Dvorak
Te Deum
Messe op. 86
Biblische Lieder op. 99
Zigeunerlieder
Edward Elgar
Dream of Gerontius
The Apostles
Gabriel Fauré
Requiem
Henning Frederichs
Von Zweifel und Zuversicht
Canticum Simeonis
Passionserzählung der Maria Magdalena
Carl Heinrich Graun
Der Tod Jesu
Edvard Grieg
Landerkennung
Charles Gounod
Cäcilienmesse
Georg Friedrich Händel
Messias (dt./engl.)
Saul (engl.)
Belsazar (dt.)
Samson (dt.)
Jephtha (engl.)
Johannes-Passion
Brockes-Passion
Israel in Egypt (engl.)
Dettinger Te Deum
L'Allegro, il Penseroso ed il Moderato (engl.)
Joseph Haydn
Die Jahreszeiten
Die Schöpfung
Messen
Michael Haydn
Requiem c-moll
Heinrich von Herzogenberg
Die Geburt Christi
Alexander Friedrich
Landgraf von Hessen
Fathume (Drei Lieder f. Bariton und Orchester)
Kurt Hessenberg
Vom Wesen und Vergehen
Arthur Honegger
Jeanne d'arc au boucher (Fr. u. dt.)
Les dans des morts (fr.)
Mauricio Kagel
Fürst Igor Strawinsky
Erich Wolfgang Korngold
Lieder des Abschieds *
Heinz-Martin Lonquich
Auf dem Rand der Mauer
Franz Liszt
Cantico des sol di San Francesco
Seligpreisungen für Bariton, Chor und Orgel
Gustav Mahler
Lieder eines fahrenden Gesellen
Frank Martin
Sechs Monologe aus "Jedermann"
Requiem
In terra pax
Siegfried Matthus
Nachtlieder für Bariton,
Harfe und Streichquartett
Felix Mendelssohn-Bartholdy
Elias
Paulus
Der 115. Psalm
Die erste Walpurgisnacht
Wolfgang Amadeus Mozart
Requiem
Grabmusik
Krönungsmesse
Carl Orff
Carmina burana
Hans Pfitzner
Das dunkle Reich
Giacomo Puccini
Messa di Gloria
Henry Purcell
Ode on St Cecilia's Day 1692
Wolfgang Rihm
Deus passus
Gioacchino Rossini
Petite Messe Solenelle
Stabat mater
Camille Saint-Saens
Oratorio de Noel
Alfred Schnittke
Seid nüchtern und wachet (Faust-Kantate)
Franz Schubert
Winterreise
Messe Es-Dur
Wolfgang Stockmeier
Te Deum
Igor Stravinsky
Canticum sacrum
Georg Philipp Telemann
Die Hirten an der Krippe zu Bethlehem *
Du aber, Daniel, gehe hin *
Viktoria, mein Jesus ist erstanden
Michael Tippett
A child of our time
* In process