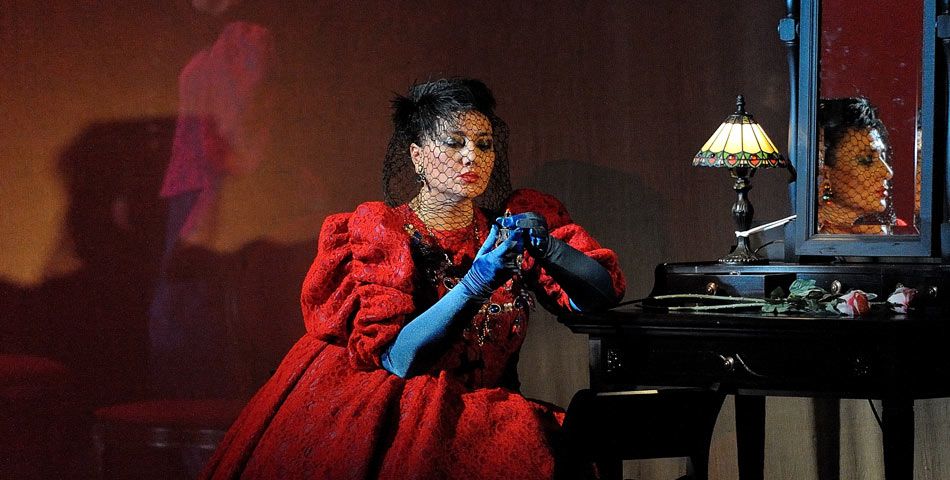 Photo credit : Besik Kurashvili
Territories : France + Monaco, Switzerland, Benelux
Photos
Photo credit : Besik Kurashvili
Learn more
Biography of soprano Nana Miriani-Kavtarashvili
Born in Tbilisi (Republic of Georgia), soprano Nana Miriani-Kavtarashvili, graduated at the Academy of Music in her hometown, under Prof. Julia Paliashvili and Prof. Iveta Gersamia.
In Italy, she pursued her vocal education at the Accademia Chigiana in Siena and attended the Training and Proficiency Course of the "Arturo Toscanini" Accademia di Canto in Parma under Carlo Bergonzi (where she obtained scholarships), as well as the Proficiency and Vocal Interpretation Course "Verdi Opera Studio" of the Fondazione Verdi Festival held at the Teatro Regio di Parma, under Soprano Renata Scotto.
Winner of the International Singing Competitions "Rocca delle Macie" (Siena), "Città di Sassari" (Sassari) and "Mario Basiola" (Soresina), she made her debut in Busseto singing the part of Abigaille in Giuseppe Verdi's Nabucco, directed by Romano Gandolfi, with the Arturo Toscanini Symphony Orchestra of Emilia Romagna and the Chorus of the Teatro Regio di Parma.
In 2001, she was invited to perform Cavalleria Rusticana by Monleone and Risurrezione by Alfano at the Opera Berlioz in Montpellier during the Radio France Festival, under the baton of Friedemann Layer.
Since then, she appeared on leading opera scenes : Teatro alla Scala (Tosca) under Lorin Maazel, (Stage director Luca Ronconi), Teatro Regio di Parma (Un Ballo in Maschera) under Valeryi Guergiev (stage director Andrey Konchalowski), Teatro Comunale di Firenze during the Maggio Musicale (Lady Macbeth of Mzensk) under James Conlon (staging Lev Dodin) etc..
She was called again the following year by the Maggio Musicale to perform the other Lady Macbeth (Verdi) at the Teatro della Pergola in Florence.
She regularly sings at the "Z. Paliashvili" State Opera House in Tbilisi : Abigaille/Nabucco (alongside Paata Burchuladze), Santuzza/Cavalleria Rusticana, Amelia/Un Ballo in Maschera, Odabella/Attila (staged by Jean-Louis Grinda), Aïda (alongside Dolora Zajick), in Italy : Teatro Lirico di Cagliari (Abigaille/Nabucco), Teatro Regio di Parma (Lady Macbeth), Rome (Tosca), Florence, Brescia, to name but a few.
In addition, she is regularly performing at the National Theater of Bratislava, Wielki Theater in Poznan, National Theater of Prague, Bielefeld Theater, Steinbruch Rohrdorf Festival in Munich etc
Versatile artist, Nana Miriani-Kavtarashvili is also sought after in concert and recently sung in Paris/Salle Pleyel alongside Paata Burchuladze, in Stuttgart/Liederhalle, Pavia alongside Leo Nucci, Bologna, Santa Cruz de Tenerife, Teatro Perez Galdos in Las Palmas etc
She also took part to the concerts in the honour of the Patriarch of Georgia at the Philharmonic Theatre in Tbilisi.
Among highlights of the forthcoming months, Nabucco, Cavalleria Rusticana, Aïda, Tannhäuser (Venus) at the State Opera Theatre in Prague, Fedora in Ostrava, as well as a European concerts tour with Verdi's opera arias for the composer 's bi-centenary.
In 2013/14 Nana Miriani-Kavtarashvili will open the season of the "Z. Paliashvili" State Opera House in Tbilisi singing the role of Isolde in Richard Wagner's Tristan and Isolde.
Repertoire
Opera repertoire
BELLINI
NORMA

NORMA
ADALGISA

CATALANI
LA WALLY
WALLY
CHOSTAKOVITCH
LADY MACBETH DE
DE MZENSK
AKSINJA
GIORDANO
ANDREA CHENIER
FEDORA
MADDALENA
FEDORA
JANACEK
JENUFA
KOSTELNICKA
MASCAGNI
CAVALLERIA RUSTICANA
SANTUZZA
PONCHIELLI
LA GIOCONDA
GIOCONDA
PUCCINI
IL TABARRO
LA FANCIULLA DEL WEST
MANON LESCAUT
TOSCA
TURANDOT
GIORGIETTA
MINNIE
MANON
TOSCA
TURANDOT
VERDI
AIDA
ALZIRA
ATTILA
DON CARLO
ERNANI
FALSTAFF
GIOVANNA D'ARCO
IL LOMBARDI
IL TROVATORE
LA FORZA DEL DESTINO
LUISA MILLER
MACBETH
MESSA DI REQUIEM
NABUCCO
SIMON BOCCANEGRA
UN BALLO IN MASCHERA
AIDA
ALZIRA
ODABELLA
ELISABETTA
ELVIRA
ALICE
GIOVANNA
GISELDA
LEONORA
LEONORA
LUISA
LADY
SOPRANO
ABIGAILLE
AMELIA
AMELIA
WAGNER
GÖTTERDÄMMERUNG
LOHENGRIN
TRISTAN UND ISOLDE
BRUNNHILDE
ORTRUD
ISOLDE