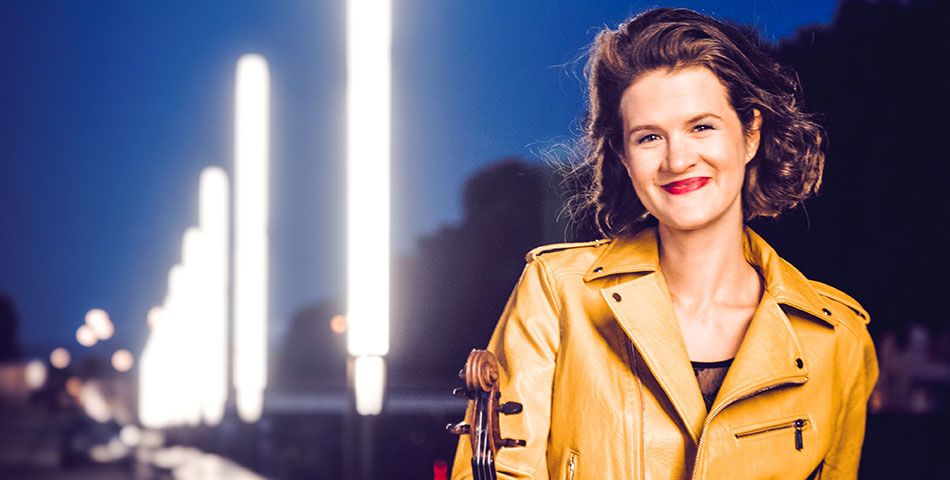 Photo credit : Klara Beck
Territories : General management
Photos
Photo credit : Klara Beck
Upcoming concerts
02/06/2023
- Saint Emilion, Grandes Heures de Saint-Emilion
Récital autour de CD Ravel avec David Lively, piano
29/06/2023
- Paris 14e - Concert privé 20h30 - Duo avec Kanae Endo, piano
09/07/2023
- Soissons Cité de la Musique et de la Danse
Concerto de Sibelius , avec la Jeune Symphonie de l'Aisne
Direction : François-Xavier Roth
22/07/2023
- Montbard: Festival Patrimoine en Musique
Concert/ conférence autour de Paganini, Mystères de la virtuosité avec Laure Dautriche
Caprices no.13 et 24, extraits de diverses oeuvres de Paganini, Paganiniana de Milstein
27/07/2023
- Festival Baroque de Tarentaise
Duo avec Ophélie Gaillard, violoncelle
Programme « Des racines au ciel »: Bach et les folklores hongrois et séfarades: Bartok, Kodaly, Hersant
30/07/2023
- Festival Les Musicales de Normandie
Duo avec Ophélie Gaillard, violoncelle
Programme « Des racines au ciel »: Bach et les folklores hongrois et séfarades: Bartok, Kodaly, Hersant
03/08/2023
- Lille, Festival Clef de Soleil
Récital avec David Lively, piano
Programme « Exils »
05/08/2023
- La Rochelle, Festival Ondes Classiques
Récital avec David Lively
08/08/2023
- Bruxelles, Festival Classissimo - Théâtre du Parc
Récital compositrices: Clara Schumann, Lili Boulanger, Mel Bonis, Rebecca Clarke
avec Julie Delbart, piano et Cécile Lastchenko, Mezzo-soprano
26/08/2023
- Estivales BloomTime, Châteauneuf Val-de-Bargis (Nièvre) - 15h30
Récital violon seul: Bach, Albeniz
24/09/2023
- Paris, 30e anniversaire Association « Apprivoiser l'Absence »
Grand auditorium du Lycée Louis Le Grand
Récital avec Ferenc Vizi
29/09/2023
- Dusseldorf, Ido Festival, Allemagne
Concert d'ouverture du Festival
Beethoven: Concerto pour violon en Ré Majeur op.61, avec Christophe Guida, orgue
01/10/2023
- Rennes
Duo violon/orgue avec Damien Simon
« Après un rêve »: Œuvres de Fauré, Ravel, Rheinberger, Bonnal, La Tombelle, Jean-Jacques Werner…
14/10/2023
- Festival Les Journées Ravel, Montfort-L'Amaury
Récital avec David Lively
Programme Ravel/ Prokofiev
16/10/2023
- Paris/Salle Cortot, Saison Pro Musicis
Duo avec Delphine Bardin
20/10/2023
- Scènes musicales de Lafrançaise - 20h30
Récital avec David Kadouch, piano
27/10/2023
- Hambourg, Allemagne
Concert franco-allemand: Récital Robert Schumann/ César Franck avec Mathias Weber, piano
29/10/2023
- Abbaye de Fontmorigny
à 11h: Récital violon/alto avec Jean-Philippe Bardon, Chef d'oeuvres et raretés
à 15h: Récital violon/piano avec David Lively, Poulenc Ravel Franck
07/11/2023
- Reims, Saison ADAC
Duo avec Ferenc Vizi
17/11/2023
- Saintes, Abbaye aux Dames
Duo « Amériques » avec David Lively
Prokofiev (1ère Sonate et Marche de l'Amour des Trois oranges), Copland, Ravel, Gershwin…
24/11/2023
- Semur-en Auxois, Musée
Duo avec Ferenc Vizi
09/12/2023
- Masterclass - Conservatoire de la Côte d'Opale (Normandie)
14/12/2023
- Liège, Concerts de Midi
Récital autour de la sortie du CD Ravel avec David Lively, piano
Intégrale des œuvres de Ravel pour violon et piano
18 - 21/01/2024
- Vienne (Autriche) Studio Molière
Duo avec Amandine Savary et Masterclasse - Beethoven/Ravel/Debussy/Schumann
Learn more
Biography of violonist Elsa Grether
To say Grether has met her brief is an understatement. This is easily my favourite solo recital in quite some while. » C. Gardner, Gramophone, Nov 2017
"Grether's playing is technically outstanding, dynamic and vivid, with a silky timbre. »
Pizzicato Magazine, September 2017
French violinist Elsa Grether is regularly invited to prestigious festivals and venues in France and abroad. As a soloist with orchestra, she has played concertos from Bach to Beethoven, Brahms, Tchaikovsky, Sibelius, Prokofiev, Tomasi among others, with the Orchestre Symphonique de Mulhouse, Orchestre National de Cannes, Lebanese Philharmonic Orchestra, Briansk Symphony Orchestra, Indiana Philharmonic, Deutsch-Tschechicher Chamber Orchestra…
Shehas given recitals at Carnegie Weill Hall in New-York, Folle Journée de Nantes, Printemps des Arts de Monte-Carlo, Flâneries Musicales de Reims, Menton Festival, Festival de Sully et du Loiret, Festival de Rocamadour, Festival des Forêts, Festival des Abbayes en Lorraine, Festival de Musique sacrée de Perpignan, Festival Berlioz, Grandes Heures de Cluny, Pâques à l'Abbaye de Fontevraud, Musicales de Normandie, Festival d'Arténétra, Festival Lille Clef de Soleil, Salle Cortot, Invalides and Petit Palais in Paris, Bozar and Flagey in Brussels, Radio Suisse Romande and Festival Musiques en Eté in Geneva, Altmark Festspiele, Ido Festival Düsseldorf, Palazzetto Bru-Zane in Venice…
Her recent and coming engagements in 2022/23 include a debut recital at the Berlin Philharmonie, Sibelius Violin Concerto with François-Xavier Roth and La Jeune Symphonie de l'Aisne, return invitations to the Folle Journée Nantes and with Orchestre Symphonique de Mulhouse under Jacques Lacombe in Tomasi Violin Concerto, recitals in Paris Invalides, Paris Petit Palais, Salle Cortot, Arsenal de Metz, Montauban, Avignon, Mulhouse, Orléans, Reims, Liège (Belgium), KonzertGut Concert Series (Germany), Festival des Abbayes de Lorraine, Festival de la Lucerne, Escapades Musicales d'Arcachon, Festival Stras'Orgues.
Her 3 CDs "Poème mystique" (Bloch and Pärt) with pianist Ferenc Vizi, "French Resonance" (Pierné, Vierne and Fauré) with François Dumont and "Kaleidoscope" for solo violin (Bach, Ysaye, Honegger, Tôn-Thât Tiet, Khatchaturian, Albeniz) were released in 2013, 2015 and 2017 by Fuga Libera/Outhere. All three CDs received unanimous acclaim and were awarded the highest distinctions: "5 Diapasons", "4 stars" in Classica Magazine as well as excellent reviews from Gramophone, Pizzicato Magazine, La Libre Belgique…
Her 4rth CD, dedicated to the work of S. Prokofiev together with pianist David Lively, was released in 2019 (Fuga Libera/Outhere) and received great reviews ("CD of the week" and FFFF in Télérama, 5 Diapasons, 5 stars in Classica Magazine, 5 from Pizzicato Magazine, Musikzen, Concertclassic, Classiquenews, Crescendo Magazine…).
Her new CD, dedicated to Maurice Ravel's complete works for violin and piano as well as rare transcriptions and arrangements (World premiere recordings), with pianist David Lively, was released in September 2022 on label Aparté. It won unanimous acclaim by the press and the public (The Strad Magazine, Gramophone, BBC Radio 3, FFFF Télérama, 5 Stars Classica, 5 from Pizzicato Magazine, CD of the week in Rondo Magazine…)
Elsa won the Pro Musicis Award in Paris by unanimous decision of the jury. She has held scholarships from a number of foundations such as Fondation Safran pour la Musique, Fondation Natixis Banque Populaire, Fondation de France (Prix Oulmont), Fondation Cziffra, Fondation Bleustein-Blanchet pour la Vocation. She was awarded the Josef Gingold full scholarship at Indiana University. In 1993 she was prizewinner at the Young Soloists' Competition organized by the RTBF in Brussels.
She is regularly heard on radios such as France Musique (who just dedicated an hour-long program to her work in "Stars du classique" presented by Aurélie Moreau), Europe 1, Musiq3 and RTS Suisse and was the subject of a program in Alain Duault's television program "Toute la musique qu'ils aiment" (France 3).
Elsa was born in Mulhouse, France. After being awarded a Premier Prix in violin by unanimous decision of the jury at the Conservatoire de Paris-CRR on her fifteenth birthday, her lively curiosity prompted her to continue her training abroad, with Ruggiero Ricci at the Salzburg Mozarteum and then in the United States with Mauricio Fuks at Indiana University Bloomington and Donald Weilerstein at the New England Conservatory in Boston. She subsequently received guidance from Régis Pasquier in Paris.
Orchestra Repertoire
CONCERTOS (* joués avec orchestre)
J.S. Bach
Concerto en La mineur BWV 1041
Concerto pour deux violons BWV 1043 *
L. van Beethoven
Concerto en Ré majeur, op.61 *
Triple Concerto en Ut majeur, op.56 *
A. Berg
Concerto «A la mémoire d'un ange»
J. Brahms
Concerto en Ré majeur, op.77 *
Double Concerto en la mineur op 102 *
B. Britten
Concerto, op.15
M. Bruch
Concerto en Sol mineur, op.26 *
V. Chébaline
Concertino pour violon et cordes *
A. Dvorak
Concerto en La mineur, op.53 *
J. Haydn
Concerto en Ut majeur, Hob. VII a no.1 *
F. Mendelssohn
Concerto no.2 en mi mineur, op.64
W.A. Mozart
Concerto en Si b majeur K.207
Concerto en Sol majeur K.216
Concerto en La majeur K.219 *
S. Prokofiev
Concerto en Ré majeur n°1, op.19 *
Concerto en Sol mineur op. 63
E. Rautavaara
Concerto
C. Saint-Saëns
Concerto en Si mineur n°3, op.61 *
S. Schostakovitch
Concerto en La mineur n°1, op.77
J. Sibelius
Concerto en Ré mineur, op.47 *
P.I. Tchaikovsky
Concerto en Ré majeur, op.35 *
H. Tomasi
Concerto pour violon et orchestre « Périple d'Ulysse » *
A. Vivaldi
Les Quatre Saisons *
ŒUVRES DIVERSES AVEC ORCHESTRE (* jouées avec orchestre)
L. van Beethoven
Romance Fa majeur op.50
E. Chausson
Poème op.25
A. Dvorak
Romance en Fa mineur op.11
W. Lutoslawsky
Partita
M. Ravel
Tzigane *
C. Saint-Saëns
Introduction et Rondo Capriccioso *
Havanaise *
P. Sarasate
Airs Bohémiens
Carmen Fantaisie *
P.I. Tchaikovsky
Souvenir d'un lieu cher-Valse-Scherzo op.34 et Sérénade mélancolique